About Us
We are a Professional, Reliable & Established Family-Run business.
A Professional, Reliable & Established Family-Run business with over 40 years' Experience. We are a multi faceted firm that puts family at the heart of what we do.
Based just outside Market Drayton in Shropshire, we offer our services throughout Shropshire, Cheshire, Staffordshire and the Midlands. Our services include Complete Waste Management, Agricultural Contracting,  Skip & Euro Bin Hire, Building Merchants, Aggregates, Plant Hire and Construction.
Site 1 – Bensite, Stoke Heath – Head office and home of Company Accounts, Transport and HR. This is the hub for the Waste Management Team, we provide a full waste management service that offers long term sustainable solutions for all clients. From Skips, Euro Bins and Compactors, as well as tipping facility at Bensite. We can process most waste streams here at A.R.Richards.
Site 2 – Warrant Hangar, Tern Hill – This is our wood, green and inert waste recycling station. Our Builders Merchant is here also offering a comprehensive range of construction and civil supplies that cater for all. This includes all types of aggregates, concrete pipe work as well as plumbing and drainage supplies.
Site 3 – The Hollies, Market Drayton – This is where the Agricultural division work from. This is where it all began, providing local farmers the very best service and modern technology. We have a team of experienced and passionate staff that can offer a wide range of Agricultural work.
Professional, Reliable & Established Family-Run business.
We pride ourselves on delivering the best service possible to our customers. Having over 40 years experience.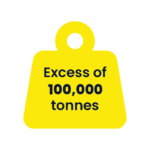 amount of waste we are on course to process through our MRF's in 2021.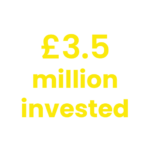 In new up-to-date vehicles & technologies across A .R Richards Divisions in 2020.
20 new members in the last 12 months to support the A. R. Richards Team
Our History
Family Run Business Since 1980
A R Richards is a family-run business, founded in 1980 by Alyn Raymond Richards, Anthony Raymond Richards and Sheilagh Richards.
The Agricultural and Plant hire contracting started out with an MF595, a trailed class Jaguar 60 Chopper and 2 silage trailers bought from Mr Westley Key, the farmer Tony Richards worked for since school and who also became their first customer.
Alyn and Tony Richards prided themselves on getting to know and understand the local farmers, providing a personal touch that earned their loyalty for years to come.
After the loss of Alyn Richards in 2002, the company was incorporated as A.R. Richards Ltd by Tony and Sheilagh along with their children Sam, Adam and Andrew.
Whilst based in Norton in Hales, as part of the farming community, the company grew. This enabled A R Richards Ltd to recycle inert waste, supply some farming building merchants' stock, such as pipes and construction work, get involved in agriculture and plant hire contracting, and also manage the sister company T.S. Pumping.
As years went by, Andrew Richards realised there was an opening within the market to expand on the removal of waste and builders merchants. In 2008, a second site just over 4 acres was purchased, 'Warrant Hangar, Tern Hill' which opened to trade as an MRF and builders merchant at the beginning of 2009. This enabled the business to grow and introduce skip hire, Euro Bin operation and haulage.
As the business grew at a rapid pace, Warrant Hangar soon became used to its full capacity. In 2014, it became apparent that a 19.2-acre site (Greenvale UK) which is just a mile away from the Warrant Hangar site, was due to be put on the market.
A R Richards Ltd approached Greenvale with an offer, which was accepted. The new site, 'Bensite', Warrant Road was purchased in 2015.
Although Bensite was the ideal premises to expand the business, a lot of communication had to be made between A R Richards, the Environment Agency and Council to enable the company to be able to run with their bespoke permit.
In February 2017, Bensite opened its gates to trade, which is currently taking in general, household, hazardous and farm waste as well as stocking a continually growing building merchants and Euro Bins.
Most recently we have been awarded our ISO:9001, 14001 & 45001 for our continued works on site.

Skip Hire
Quick, Simple and Competitively Priced

Commercial Waste
Complete Waste Management Services
Euro Bin Hire
Across Shropshire, Staffordshire & Cheshire

Building Merchants & Aggregates
Concrete, Ducting, Pipes and more…

Construction & Plant Hire
Available with and without operatives

Agricultural Contracting
Full Range of field & Harvest works completed
What our customers are saying