Landscaping Products
At A R Richards we stock an excellent range of landscaping supplies that help make outdoor improvement jobs a breeze. We stock a vast range of paving materials which can be used to add an extra parking space and create paths and borders in various styles. Delivery of these products is available across Shropshire, Staffordshire and Cheshire. 
Alongside our paving materials we stock hard and softwood sleepers. Final touches can be added with our extensive aggregates and enhance natural features with planting products, such as bulk bags of topsoil.
Decorative Aggregates
All our decorative aggregates, gravels, are available for delivery, from 1-20 tonne.
Artic White
What is Artic White Shingle?
Arctic white is a stunning pure white crystal effect gravel chipping that is 9-12mm in size and ideal for garden features, driveways and decorative borders.
Where is Artic White Best Used?
This shingle features a beautiful sparkle and will ideally compliment more contemporary gardens.
Flamingo 
What is Flamingo 20mm Gravel?
Flamingo Gravel is made up with a mixture of stunning colours; including pinks, greys and white. This will most definitely add elegance to your current garden design.
Where is this best used?
These stones are perfectly suited for garden paths, driveways, general landscaping and decorative designs
Golden Shingle
What is Golden Shingle?
Our golden gravels are among our most popular products in the decorative aggregate range. This product is also known as Solent gold and yellow gravel. Golden gravel looks great dry but comes to life when wet.
How is is best laid?
This product is best laid at 3 – 4cm and is ideal for pathways, path edges, replacing flower beds and as a pipe bedding material.
Ebony Black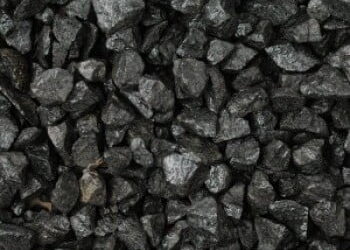 What is Ebony Black?
An attractive pale grey colour that darkens to near black when wet. . Featuring a chunky profile, our Ebony Black is popular for mulch, lawn borders, raised beds and garden rockeries. Available in 25kg bags at The Hangar.
Where is Ebony Black best used?
As a fish friendly product, these grey/black chippings are perfect for use in a contemporary garden water feature or fish pond
Polar Ice 
What is Polar Ice?
Polar Ice 20mm is a stunning mix of light and darker blue/grey and white chippings. It creates an attractive decorative ground covering for gravel gardens and will brighten dark and shady areas of your garden. 
Where to use Polar Ice?
Polar Ice Gravel is a marble product so is ideal for drives but it is also perfect for paths, borders, raised gardens and rockeries
All decorative aggregates are available for delivery across Shropshire, Staffordshire and Cheshire.  Delivery from 1tonne to 20tonne- please call the team today to confirm availability.
From the Building Merchants Trade counter we can offer 25kg bags. Perfect for smaller areas of garden and to replenish light areas.
If you need a specific gravel that is not listed please contact us. As an independent merchant we work with a number of leading quarries to source the very best products at the most competitive prices.
Paving Slabs
Our range of Paving Slabs which are perfect for Garden & Landscape including Indian Sandstone, Porcelain and Mortar.
Topsoil
Enquire Today or Call us on 01630 639 888
Skip Hire
Enquire Today or Call us on 01630 639 888
Plant Hire
Enquire Today or Call us on 01630 639 888